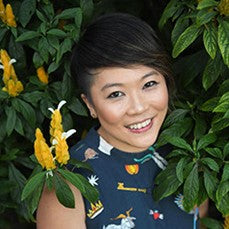 Eri Yamaguchi – "Turning Point" & "Kawaii Mystical World"
Eri Yamaguchi – Local Artist with a heart for wildlife and an eye for Kawaii
By Meg Rowe
Eri Yamaguchi's, two big passions are art and marine life. In her exhibition, "Turning Point", she aims to inspire a love of both.
Japanese born artist, Eri Yamaguchi, shakes her head in wonder when she realizes she is about to enter her twentieth year in Australia. Where does the time go, she laughs! Eri reflects that living in Australia has allowed her to explore and play with traditional Japanese approaches to art with what she calls her 'crazy' Japanese style. Her delightfully whimsical, graphite drawings fuse her Japanese heritage with a more relaxed contemporary Australian flavour, giving her work an extra zing of colour and fun.
When asked about the theme for her exhibition, 'Turning Point', Eri's face lights up.
"I love art and being an artist and I am passionate about supporting marine wildlife preservation. For my exhibition, 'Turning Point', I'm highlighting how important it is to care for our marine life. I want people to understand that whales are not just cute animals, they need our voice to help protect them. To support this, I am donating a portion of my exhibition sales to the Australian Marine Conservation Society (AMCS) and also giving visitors to my exhibition the opportunity to make a gold coin donation as well.
Eri has named the second element of her exhibition, 'Kawaii Mystical World', where she fully embraces her love of Japanese 'kawaii' – cuteness - in a magical mushroom fairyland brimming with Kawaii mushrooms, fairies and other interesting characters. "I'm also excited to run three wooden mushroom decorating workshops as part this exhibition," she says, "It will be a lot of fun and you will take home your own original Kawaii Mystical World mushroom!"  
Eri's exhibitions, "Turning Point" and "Kawaii Mystical World" are showing until Sunday 10th September at Scrumptious Reads Bookshop and Gallery, 92 Arthur Terrace, Red Hill.
Eri Yamaguchi is a local Brisbane artist and marine life advocate.
Connect with Eri  @chalkboard.e
@eri_yamaguchi_art
Meg Rowe is a writer and teacher.
Connect with Meg @megrowe_writer
megrowe.com.au
---